point in check Overpowering wide appear
[Magnum craw PAYAO] is perfect remake of [Zenith's Z-CLAW] by [ROSSO CORSA] original model's skill overpowering wide appear and parallel to big fish,this King of swimming top water plug everything succeed.
point1

Can wide searching in surface,call Type-Sparkling. Can temptation to surface and underwater,call Type-Naturally.

point2

This scale up version model can react to various home sea fish and overseas fish.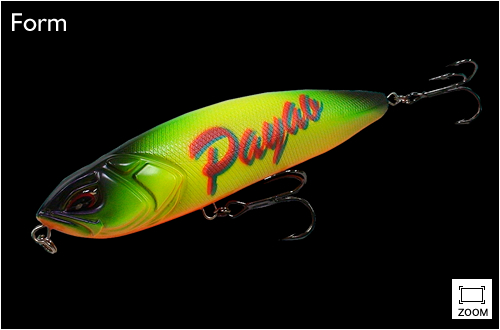 Dog Walking Actuion
By the tail center of gravity setting,The appeal of great power is achieved. Moreover,big plug and the fish of high-tension of the reservoir are enchanted by the action response of wave motion and sound & Flushing & splash etc. that arise from quick dog walk,the power slide,and the diving without being thought and the tempo is possible to search for the wide range well,and dynamically with the big plug.
Natural swimming action
Not only natural swimming dog walking and slid action,but also just reeling as well as dive action,you can do natural swimming through ret reap after sinking,also steady ret reap.
Moreover,a strong effect of Flushing,it changes by lacing twtch and a short jerk with pivotal points at the swimming action tone. The big fish became nervous in giving irregular movement by a natural,strong appeal power is enchanted,and it is possible to make them cause it to Low impact &Hi impact.
SPEC
Length 

150mm

Weight 

1.8oz.class

Hook  

OWNER.ST-36BC #1/0

Ring  

OWNER.P-03B #4
LINE UP